___________________________
Coleraine Kennels
Maura High
Lawson MO
816-885-2260

coleraine@centurytel.net
www.coleraineirishdogs.com

CHIC #'s 51433,80971,54008,
56510,50995,51434
________________________

Finnabair Glens
Mary A. McDaniel, DVM
105 East Alfred Street
Lake Alfred, FL 33850
AnatolianDoc@cs.com
CHIC #'s 196203, 58762, 86161, 85470
________________________

Rainbow Springs Farm
Peg Carty
1206 Eidson Creek Rd
Staunton VA 24401
540-885-4513
irishdogs4me@gmail.com
www.irishglens.com
CHIC#:79640
________________________

Tipperary Farm
Jo Lynn
McDonald, PA 15057
info@TipperaryFarm.com
www.TipperaryFarm.com
CHIC#'s: 58140, 81269, 94586
________________________



****The Glen of Imaal Terrier Club of America ("GITCA") provides the Breeders Directory and Litters Available to assist the general public in locating breeders of Glen of Imaal Terriers who are members of GITCA in good standing. GITCA does not make any endorsements, representations, or warranties regarding the breeders listed or the quality, health, show potential, or any other matter regarding any dogs obtained from or puppies produced by any listed breeder. The breeders listed here have
paid a fee to be included on the GITCA Litters Available list. All breeders have signed the GITCA Code of Ethics which is available to read as a drop down menu the "About GITCA"
***
In order to list a litter on the GITCA Litter Referral, both the dam and the sire of the litter must have CHIC numbers. This is the direct link to the CHIC database: http://www.caninehealthinfo.org/search.html?action=new
* Once you are on this page, simply click the drop-down arrow at the "Breed"
box to select Glen of Imaal Terrier.
* Then click 'Begin Search.' You'll see entire list of Glen of Imaal Terriers
who currently have CHIC numbers.
* To see an individual animal's results, simply click on the dog's name.
The Glen of Imaal Terrier remains a rare breed throughout the world. Litters are relatively few in number. Most breeders have a long waiting list of prospective new owners. The Glen of Imaal Terrier Club of America provides a breeder referral service. Commencing a dialogue with a few breeders whose stock you like is highly recommended. Visiting breeders and attending dog shows also provide an opportunity to meet a Glen in person.
You should feel free to ask your breeder any and all questions you have. There are no silly questions. Similarly, the breeder will likely ask you many questions about your home, family, schedule, interests and experience with terriers, frequently via a written application. It is also unlikely that you will be able to pick the pup you want from a litter. It is far more likely that a pup or two will be selected, based on the breeders assessment of what would work best for you given the information you have provided.
Cost varies some by region - as do veterinary costs. Given the rarity of the breed and the consequential rarity of stud dogs, matings are often long distance affairs.
In addition, breeders will often hold on to pups until 9-12 weeks of age to best be able to assess the litter, thereby incurring greater veterinary, and food expenses. All of this is costly, and despite the price of a puppy, breeders do not breed to make a profit as there is none, but breed because they are dedicated to breeding the best Glens possible. Whatever the cost, your initial investment will be, over the 10-15 year lifespan of your Glen, your smallest investment. Veterinary expenses, food, supplies and all those little luxuries that you decide your Glen must have, will add up to a substantial amount over time. Dog ownership is indeed a financial commitment. Your breeder should provide you with appropriate registrations documents, veterinarian records, feeding instructions, and a pedigree.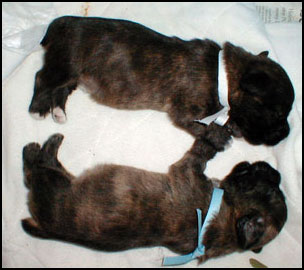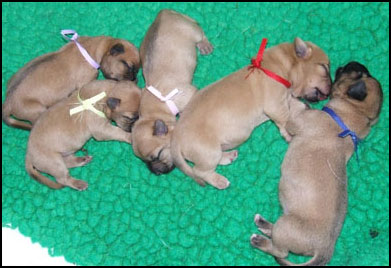 Very rarely, an older dog (over a year of age) might come available. This Glen was perhaps a show prospect that didn't work out, or is a dog retired from breeding or showing. These Glens are often housebroken, socialized, and trained. If the rigors of puppyhood are daunting to you, this might be an option to consider. Rescued Glens are fortunately few and far between. They usually originated as imported stock from another country and might have extensive issues that need to be dealt with by anyone taking on a rescued dog.
GITCA members wishing to list a litter can contact
gitcacs@glens.org
For more information contact
gitcacs@glens.org